Welcome to the World of Rubber Nursery - The Nursery of Nurseries- Established in the year 1978.
You get real value for your payment and the rubber plants supplied by Vadakkel Rubber Nursery are a valuable possession too. The undisputed fact is that, our nursery is the doorway to the heaven of farming and cultivation. Every plant produced and supplied by is grafted to perfection and here you get something beyond your expectation.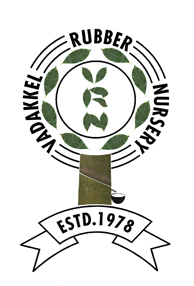 ---
It was the Englishman J J Murphy who initiated Rubber plantation in India at Yendayar, a small village in Kottayam District.
After sixty five years, Raju V Jose Vadakkel took up the initiative in rubber plantation and brought it to its zenith and glory.
---
2000
PLANTS SPREAD ACROSS 45 ACRES
What Makes Vadakkel Rubber Nursery Special
The Rubber Nursery renders meritorious services to farmers all across Kerla

to farmers all across Kerla
Our Proprietor
Mr. Raju V Jose, the proprietor, is the pioneer in the field of Rubber Nurseries.
He is an innovator and an ardent supporter of techniques. All the researchers of the Rubber Board, all major estate owners and rubber planters have acknowledged the innovations and techniques adopted and implemented by Mr. Raju V Jose.